Have you ever been to a store where you can see the uttering chaos?
Panicked staff became hysterical. You can not see any manager. No proper information about the product is displayed, and the products are lying here and there, making it difficult for the customer to buy. It takes a lot of time, and the customer freaks out and won't be desperate to return anytime soon.
What is Management?
Management refers to the process of bringing people together to a common platform and making them work as a single unit to achieve the goals and objectives of an organization. Management is required in every aspect of life and forms a crucial part of all businesses.
What is Retail Management?
The various processes which help the customers to obtain the desired merchandise from the retail stores for their end use describe retail management. It includes all the steps required to bring the customers into the store, fulfil their buying needs, and satisfy them with the services that help them in hassle-free purchasing.
It makes shopping a pleasurable experience and makes sure that customers leave the store with a smile. In simpler words, retail management helps customers shop without any hindrances.
Evolution of Retail Management
Retail is known to be an organized industry that began in the 18th and 19th centuries with the rise of urban covered markets, especially shops and department stores.
Then, with evolution, it started taking the shape of giant stores and shopping malls. To manage such stores, retail managers got hired and helped retailers run their stores successfully.
Among the theories identified is the wheel of retailing theory, which outlines the three stages retailers encounter: Entry Phase, Trading-up Phase and Vulnerability Phase.
Entry Phase
A retailer penetrates a new market during the entry phase. This phase is marked by low prices and low retailer margins, and low customer awareness or affinity reflected in a lower reputation for the retailer.
During the entry phase, the retailer's focus is on streamlining operations to support the new venture.
Trading-up Phase
In the trading-up phase, retailers expand their services and facilities, and they also expand their services and facilities, and they also increase operational costs. It means that the low prices they once had are also increasing.
Vulnerability Phase
Because of the rise in the cost of business and increasing prices for consumers, retailers must continue to raise prices to stay profitable and become susceptible to new retailers who enter the marketplace.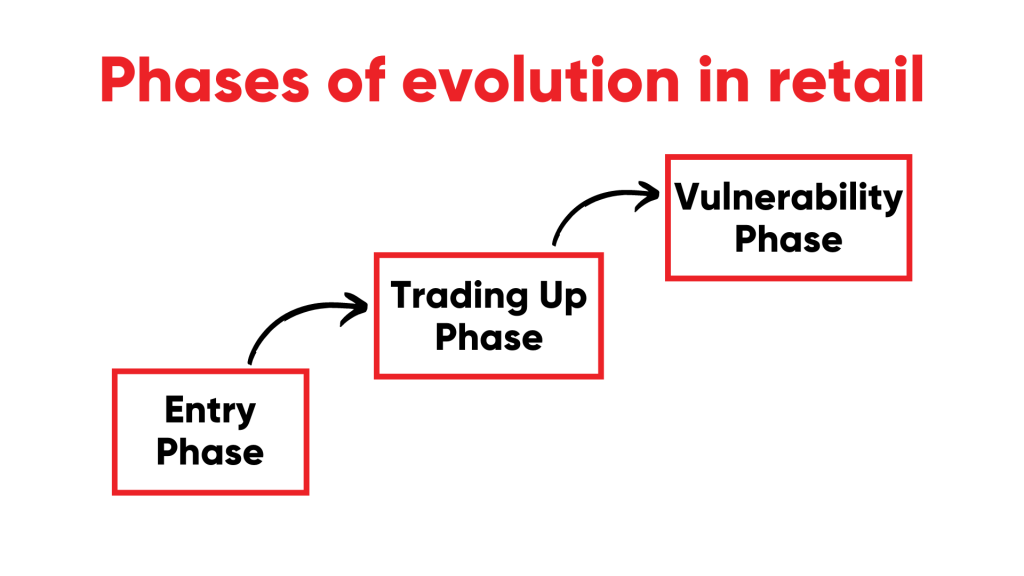 Need for Retail Management
Let's take an example to understand this. Juan wanted to gift his wife a watch on her birthday. He went to the nearest store to check out the options available at the store.
The retailer took almost an hour to find the watch which Juan wanted. Juan got irritated and left the store, decided not to revisit this store. It set an example of poor management.
One can't just afford to make the customer wait for long. It has a negative impact, and the customer exhausts. The merchandise needs to be well organized to avoid unnecessary searching, and the interest of the customer remains the same.
Such situations can be seen at mom-and-pop stores (General Provision Stores). One can never enjoy shopping at such stores.
Retail Management helps in saving time and ensures that customers easily locate their desired merchandise and return home satisfied.
Effective management avoids unnecessary chaos at the store and controls shoplifting to a large extent.
Below are the points you should take care of for the need for retail management:
The retailer should maintain a record of all the products coming into the store.
The products must be well organized on the assigned shelves according to size, colour, gender, patterns, etc., which helps customers know about the product's availability.
Store layout should be planned well.
The range of products available at the store must be categorized into small groups comprising similar products. Such groups are called categories. A customer can easily walk up to a particular category and look for products without much assistance and disturbances.
Necessary labels must be displayed on the shelves for the customers to showcase the merchandise on their own.
A unique SKU code must be generated for every product to easily track products.
Don't let the customers wait for long.
The sales representative should assist the customers well in their shopping and greet them with a gentle smile.
The store should be kept clean. Don't stock unnecessary furniture as it will give a cluttered look to the store. There should be enough space so that customers can move freely.
The retailer must ensure enough stock is available at the store so customers won't be disappointed.
Employees working at the retail store must be given timely training so that they should be well aware of their roles and responsibilities and customer oriented. They should be experts in their respective domains.
Create an attractive display and remove unsold merchandise from the shelves.
Things should be planned well in advance to avoid confusion later on.
Bring in the notice to the customers to produce bills in case of exchange. Assign fixed timings for the same. Don't entertain customers after a week.
Importance of Retail Management
Also, if anyone asks you why retail management is important? The answer would be it is one of the most important factors in running a retail business effectively and flawlessly.
There are a lot of people who start a business but are not able to survive in the market for the long term. The reason behind this is a lack of knowledge of business operations and their management.
So, retail management helps you to serve your customers in a proper manner and boost customer satisfaction.
If you are following the process, you will notice an increment in the productivity and efficiency of your employees and the brand.
The following points are mentioned below for the importance of retail management:
Customer Satisfaction
A satisfied customer is an asset for any retailer. It determines how happy customers are with a company's products, services, and capabilities.
Retail management saves time and ensures that customers can easily find their products in-store. A smooth process place avoids chaos and keeps employees and customers satisfied.
Customer Retention
It is the company's ability to gain customers' trust and prevents switching to another company. It enables you to form lasting relationships with customers.
Hassle-free shopping
Good management helps customers easily find the product of their choice in the store. Each and every product is categorised and arranged according to its price, quantity, brand, etc., so the customers can easily pick up the product of their need and choice in no time.
The retailers won't need to get up and fetch the product for the customer. Hence, a customer's need is satisfied, and he/she has a good shopping experience!
Prevents unnecessary chaos and shoplifting activities
Retail Management eradicates a lot of unnecessary mess, chaos and crowd from the store. It carries a smooth process, where a customer enters the store, picks up the products of their choice, pays the bill, leaves the store with a smile and decides to visit again.
This, in turn, also reduces shoplifting activities in your store.
Proper Accounting
Proper retail management helps retailers maintain a proper database where every product is tracked and allows them to know about the product, whether it is in or out of stock.
It maintains the database of from where the product was brought into the store for sale to all that was sold is mentioned. It helps in maintaining daily calculations and accounting less complicated and accurate.
Well-organised store and Inventory Management
Good management helps manage the store in a very effective and efficient manner. Information about the product is displayed, which helps the customer know about the product.
Well-organised store does not let your product go out of stock. The customer should not be told that the particular product is out of stock at any point in time.
Retail management is important in the modern concept as there is stiff competition in the retail sector. Thus, it becomes important for all retailers to hire retail managers so that they can apply their skills and take the business towards success.
Brand Reputation
It comes with how people perceive your brand, how they interact with it, and what their experiences are using the brand's products or services. The stronger the reputation, the more people trust and advocate for the brand.
A happy customer won't just return time and time again; they will recommend you to their friends and family. The power of word-of-mouth advertising cannot be underestimated. If you've got the chance to delight customers, take it- it can pay dividends for years to years.
"People don't buy what you do; they buy why you do it".

~ Simon Sinek
Conclusion: Retail Management and its Importance
Whether you have a small shop or a mega store, if you own a retail business, then retail management is a must to run it effectively and efficiently.
From the above discussion, we can realize the importance of retail management. It helps retailers save time and gain customer satisfaction. The customers become evangelists and wish to visit the store again and again.
Hence, the whole concept of retail management helps the retailer to get rid of the chaos and run his business successfully.
If you are a brand looking for retail expansion and strengthening your offline retail footprints, 91Squarefeet is your go-to turnkey retail expansion player!
Feel free to Contact Us or mail us at hello@91sqft.com. We will be more than happy to assist you.