What's better than gaining a new customer?
The answer is not just acquiring new customers. It is also retaining existing customers.
While there's a certain allure that comes with capturing new customers, keeping them coming back will continuously result in a more significant ROI — and it costs 5-25X less.
The biggest brands are currently using some of the best customer retention strategies to inspire loyalty, so we've broken them down to ease the topic.
We'll cover all the must-haves for customer success teams and marketers today, from maximizing convenience to prioritizing personalization.
In order to keep your current customers engaged and satisfied, how do you create a customer retention strategy?
What is Customer Retention?
It refers to the ability of a company, product or service to retain its customers over some specified period or a more extended time period.
High customer retention means customers of the product or business tend to return, continue to purchase or, in other ways, may not switch to another company, product or service.
This, in turn, increases the Lifetime Value of a customer.
How to calculate Customer Retention Rate?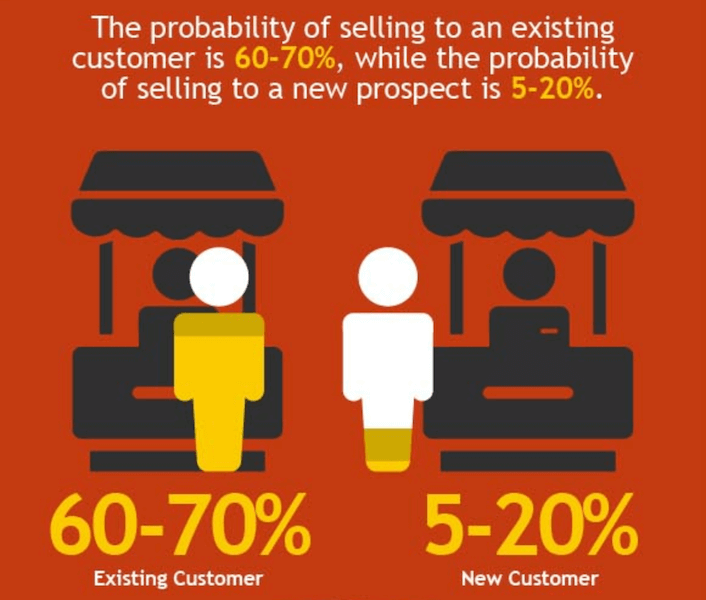 It can be calculated by dividing the number of current customers by the number of customers acquired at the beginning of the period.
The formula for customer retention rate is:
How to retain Customers?
Customer service has gone beyond attending to inquiries and complaints. If you want to build a thriving business, you must take care of your biggest asset- Customers.
So, here it becomes important to understand, how you can retain your customers by considering the following points:
Strengthen the Onboarding Experience
When the customer makes his purchase, your business has the chance to leave a memorable first impression – so make sure your onboarding process runs smoothly.
Customers will likely recall any customer service during their initial onboarding, such as mishandling information or not having a designated point of contact to hold their hand through the beginning.
In spite of the fact that your business can resolve these points of conflict quickly, it may still leave a bitter taste in the customers' mouths.
An excellent onboarding process goes above great customer service, but it should also include its effects on the onboarding program.
Your business must have workflows with timely emailing, follow-up messages, self-service knowledge base access, and celebratory messages to excite and impress new clients.
Personalized Customer Experience
There are no two customers with the same exact needs, so you might have to offer tailored solutions. You need to avoid providing monotonous solutions for those customers who need specialized products or services based on their scales, their time limitations, or other preferences.
According to the survey, 99% of marketers say personalization helps advance customer relationships, with 78% claiming that it has a strong impact.
It is also essential to keep the offering relevant and personalized to each and every individual customer, so the solution given is essential for the problems they face.
They'll feel more inclined towards your business and continue to be with you because of the attentiveness and quick response your company provides.
Build trust with your Customers
Needless to say, it is very essential to build trust with customers.
Two things are equally important when it comes to building trust between you/your company, and your customers:
Don't assume that they trust you because they buy from you.
It takes time to build trust.
It is seen that when customers decide to purchase, 81% of customers have trust issues. Building trust is not an overnight game. It takes a lot and a lot.
After all, the definition of trust says it all "A firm belief in the reliability, truth, or ability of someone or something." reliability plays a significant role in building trust.
So, the company must deliver value to its customer consistently.
Following your brand promise and delivering what you have promised and what new you are going to do for your customers in the near future will automatically impact customers and build a strong bond.
Implement a Customer Feedback Loop
It is pretty difficult to improve the business if you have no idea about how your customers feel about it.
If you want to retain your customers, you must have a process to obtain customer feedback and need to share that information with the rest of your organization.
Thus, the customer feedback loop is required. It develops a system for analyzing, collecting and distributing customer feedback, surveys and reviews.
In order to collect feedback data, there are specific ways. Surveying is the most common way, or we can ask our customers to participate in user testing and focus groups.
You can also give the opportunity to your customers to send their feedback after each and every interactive call and meeting. Using these methods would provide you with ample feedback and relevant data.
Once you've collected the relevant data, then you should analyze survey results by looking for trends in customer behaviour and different other areas to upgrade user experience. Then, the filtered information is shared with the team, and hence, it may be beneficial for the organization.
For example, customer feedback is shared with engineers and development teams so they can address shortfalls in product design and work on it to make it flawless by collecting and sharing customer reviews.
Businesses can efficiently handle criticism and can improve the customer experience.
Maintain a Customer Communication Calendar
Sometimes, it happens that customers don't reach out with feedback. In such a case team should be proactive in communicating with customers by sending them feedback forms or asking them to give remarks about their services.
You can also reach out by calling them after delivering your services.
To function smoothly, it is vital to adopt a customer communication calendar to manage customer engagements and create opportunities to upsell and cross-sell.
You can use a communication calendar to track customer communication. It lets you know when existing customers haven't interacted with your brand and when a customer last contacted you.
It makes launching promotional offers and proactive customer service features that remove roadblocks before customers even know they exist easy. An email can be sent to a customer letting them know they need to renew if their subscription is about to expire.
For example, in your customer communication calendar, you can include Business events, including dates you're planning, business conferences or if you're aiming to host customer appreciation events and many more such events that will help you engage with them.
Send a Company Newsletter
A company newsletter is an easy and cost-effective way of customer retention because it enhances the company's reputation and its presence.
You can also use email automation to send updates or offers notification to each and every customer at once. You can also send the email using an RSS feed at a designated frequency.
So, you need not manually update the content or remember to click "send." Even though newsletters are simple, they can help remind customers of your brand whenever they open their inboxes.
Start a Customer Education Program
As we have discussed earlier, trust plays a crucial role in building a relationship between the customer and the brand. When one earns that trust, then people are inclined to listen to the brand.
The customer education program is the information that a company provide to its customers about the product and services they render.
So that it helps customers to make a well-informed purchase decision, a customer education program helps build a strong relationship between the customer and the brand.
For example- 91Squarefeet, deals in Retail Expansion. Here, you can learn everything about retail. It tells about the hows and whats of retail and helps business owners and customers to deal in retail and take the right decision.
Offer Unique Services
It is the act of serving, helping and assisting those who purchased or are planning to purchase from your store as in such a vast competition providing quality and unique services is the only solution.
By offering excellent customer service, one can ensure that customers enjoy shopping. This increases customer loyalty, and customers are inclined to revisit the store.
It may encourage the number of positive reviews on your store and spread a word-of-mouth promotion about the brand.
Start a Customer Retention Program
A customer retention program is a variety of activities that aims to keep customers for the long term and turn them into loyal buyers. The end goal is to transform first-time customers into repeat customers and maximize their lifetime value.
Customer retention programs are an amalgamation of several types of tactics. There are programs for every business type. Below, we define customer retention programs or strategies, explain the most common types, and show you how to implement them.
By implementing customer retention strategies, companies can generate more value from the product, encourage customers to share feedback so that it can influence potential new customers, and can build a community of like-minded customers or users.
7 Powerful Customer Retention Strategies
Here, we have shared some of the most powerful customer retention strategies.
Adopt customer service tools
If you own a small or mid-sized business, you can handle it quickly, but when you grow, and your team size and potential customers grow, then you need to have some specific tools so that you can ease your process.
Customer service tools help agents access and use customer information whenever and wherever they need it. These tools also facilitate improved internal collaboration with shared inboxes and greater efficiency with streamlined workflows.
Apologize when you make mistakes
There is no doubt that mistakes can happen in business. Whether that is a data breach, an outage, a billing error, or anything else can happen unknowingly. A single mistake can put you at risk of losing your customer, but if you handle it cautiously, it can be a big win.
Apologizing shows that if you know about your mistake and are willing to make a sincere effort to rectify it and prevent them from happening again, it's not wrong to apologize.
For example, Apple back in 2015: Taylor Swift announced a boycott of Apple music. It was due to the service offering a one-month trial of its streaming feature, but not paying the artists for any of their music that was played during the free period. Apple admitted its wrongdoing and apologized in public, and promised to pay artists even during customers' free trial. It was a great gesture from Apple!
Inspire with a Mission
It's no mandate that companies need a unique product or any other tactics to retain their customer base. It can simply inspire with its mission and vision.
A good mission statement can surprise, inspire and transform your business. It provides a clear purpose for your business and your goals for succeeding in the near future.
For example, Nike says, "Bring inspiration and innovation to every athlete in the world. If you have a body, you are an athlete".
Empower Customers with the Convenience
It doesn't matter what industry you're in; you want to make your product or service as convenient as possible to retain your customer.
For example, Starbucks uses AI to improve its customer experience. Technology allows for a more customized experience, while also gathering key data features about customers.
Leverage Personalization
Not only do customers want personal recommendations and service, but they also want to see the humanity behind your brand when it comes to personalization.
Example: Starbucks is well known for its customer personalization strategy to improve its overall experience.
They basically focus on the following points:
Starbucks doesn't let tech take the wheel as technology bridges the gap between the physical and the digital, so customers feel as seen in all of their digital channels when they walk into the store.
Customer personalization is everything – Starbucks mainly focuses on customer personalization. Maximum orders are customized as per individuals' tastes and preferences.
POV matters- Communicating with customers is something, which is very important nowadays, and even that's the authenticity level customers expect.
Speak to your Customers
It is crucial for any business to know and connect with its customers. You can also learn from firsthand accounts of what is going wrong or right in your strategy.
For example: Creating a customer-centric business model is very important these days. Amazon uses personalization for better convenience. Curated recommendations are a huge source of Amazon's sales. A recent figure stated that around 35% of the total sale on Amazon's website is from personalized recommendation. This advanced algorithm created a huge value for Amazon while making shopping more convenient for customers.
Creating a divide between you and your competitors
In this highly competitive market where one has to check about their competitors. It is essential to create a divide between you and your tough competitor so you can stand alone in the market.
For example, Apple has a long-established reputation for innovation and a commitment to developing new products. They differentiate with their product design, pricing strategy, marketing strategy and etc.
Conclusion: Increasing Customer Retention
Undoubtedly, Customer Retention is the most effective way to grow your business and is the key to success. It is always seen that acquiring new customers are always expensive, and it takes more effort than retaining customers. So, it becomes important for the business to keep its customer retention rate up.
To increase your customer retention rate, in order to have a better conversion rate, lower marketing costs and higher profit, you can follow the above tips!
And if you are a brand who want to build stores where your customers come again and again, Contact Us or mail us at hello@91sqft.com.